Stanley 8 on legs
The reconditioned Stanley 8 on Legs is based on the classic Stanley 8 design but is mounted on high, enameled legs giving this model additional height and a more elegant overall appearance. Please note that this range is often referred to as the "Stanley Errigal" although the Errigal has a top mounted warming oven.
This design also makes the appliance a far more efficient room heater because warmth is radiated out from underneath the cooker as well as the top and sides.
A reconditioned Stanley 8 on legs from GMH comes in solid fuel, pressure jet or vaporising burner format with a comprehensive range of boiler options and accessories including a hot plate cover and a plate rack and splash back.
Stanley 8 on legs Solid Fuel Configurations
Non boiler
Domestic hot water boiler
L boiler for up to 4 radiators
U8 boiler for up to 6 radiators
U9 boiler for up to 8 radiators
Features
Burns all types of dry solid fuel
Robust cast iron construction
Oven temperature indicator
Large surface hotplates
Domestic hot water and central heating models available
Non boiler model available
Optional plate rack and splashback
---
Specifications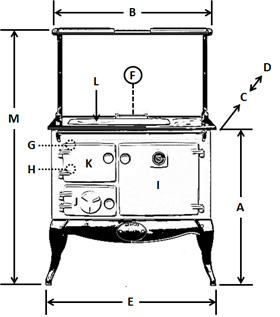 Height 876mm
Width 900mm
Depth 555mm (605mm with warming oven)
Depth to bracket 610mm (660mm with warming oven)
Width at widest point (legs) 950mm
Flue 5" (125mm) rear centred: H725mm x 452mm from RH edge of hob. Top connection option
Boiler flow pipe 1" BSP rear connection, centred: H825mm x 135mm from LH edge of hob
Boiler return pipe 1" BSP rear connection, centred: Dependent on boiler type, please ask for details
Oven W390mm x H330mm x D400mm
Boiling hotplate 300mm diameter circle
Fuel: multi-fuel: wood & coal
Firebox dimensions (maximum, non-boiler): W330mm x H340mm x D340mm
Hotplate W555mm x L295mm boiling side LH
Height to top of splash back panel: 1370mm or 1497mm with warming oven
Heat Output to Water
DHW boiler 2.9kW
L boiler 4.4kW up to 4 radiators
U8 boiler 6.2kW up to 6 radiators
U9 boiler 13.76kW up to 8 radiators
Notes
Max. Weight 275Kg
Cost Options are hotplate cover, plate rack, splash back, warming oven & side shelves.
Click here to view our range of enamel colours or contact us for prices and availability.
We offer a full installation service; however the price may vary depending on any additional preparation work required such as for the chimney or plumbing.
Due to the nature of the casting process all dimensions are subject to slight +/- variations.