Stanley 90
A reconditioned Stanley 90 from GMH offers the same heat output and has similar controls to the 80 model but with slight enhancements such as the addition of a warming oven under the main oven, a cast iron hotplate cover and more contemporary styling. There are several variants such as the Stanley 90 Deluxe, Stanley 90 3-door and Stanley 90 4-door.
There are options for a plate rack & splash back panel and hot plate cover for some models. The solid fuel model is a multi-fuel appliance and can be fired from the front or top on some models.
Stanley 90 Configurations
Solid fuel and boiler for up to 10 radiators
Features
Large capacity roasting oven
Hotplate with graded heating areas
Hotplate cover
Second warming oven
Heats 8 to 10 radiators
Thermostatically controlled central heating, water and oven
Optional plate rack and splash back
---
Specifications - Solid Fuel Model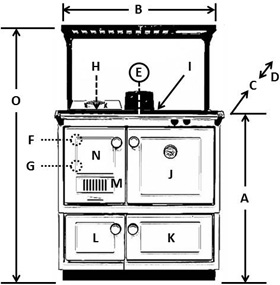 Height 920mm
Width 890mm
Depth 568mm
Depth to bracket 618mm
Flue 5" (125mm) rear centered: H755mm x 396mm from RH edge of hob. Top connection option
Boiler flow pipe 1" BSP rear connection, centered: H861mm x 104mm from LH side panel edge
Boiler return pipe 1" BSP rear connection, centered: H610mm x 104mm from LH side panel edge
Boiling hotplate W268mm x L252mm
Simmering hotplate W390mm x L246mm
Main oven W400mm x H325mm x D396mm
Warming oven W492mm x H300mm x D435mm
Storage space W325mm x H300 x D435mm
Fuel: multi-fuel: wood, coal & turf
Firebox dimensions: W250mm x H320mm x D390mm
Height to top of plate rack: 1400mm
Heat Output to Water
U9 boiler 13.76kW sufficient for up to 9 radiators
---
Click here to view our range of enamel colours or contact us for prices and availability.
We offer a full installation service; however the price may vary depending on any additional preparation work required such as for the chimney or plumbing.
Due to the nature of the casting process all dimensions are subject to slight +/- variations.